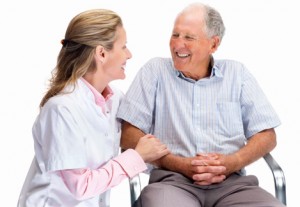 When faced with the choice between living in an elderly care facility or aging as independently as possible at home, home health care is almost always the more desirable choice. Still, it's not always easy to build a feasible support system for aging seniors who wish to retain as much independence and dignity as possible by continuing to live in their own homes.
Understanding the unique needs of an individual patient and the level of care required to help them stay in their own homes doesn't have to be complicated. With the right assistance in place and a plan of action, it's very possible to help your loved ones retain some semblance of an independent, healthy lifestyle well into their golden years.
Realistic Evaluation of Need
To create a plan for an extended aging-in-place arrangement, it's imperative to objectively take stock of your loved one's needs and requirements. Some seniors will require little more than… continue reading here:  http://www.insideeldercare.com/aging-in-place/using-home-health-care-to-facilitate-independent-living/?utm_source=rss&utm_medium=rss&utm_campaign=using-home-health-care-to-facilitate-independent-living&utm_reader=feedly
Compassion & Choices Provides Tips to Families to Discuss Issue Everyone Will Face
The upcoming holiday season is the perfect time to "talk turkey over turkey" with your family about an important issue we all will face: our wishes for end-of-life care. It is the key message in the featured holiday story of the fall 2013 issue of Compassion & Choices Magazine.
Fewer than half of Americans over age 40 have completed an advance directive outlining what medical treatments they would want if they couldn't communicate, according to a poll by the AP-NORC Center for Public Affairs Research. Ironically, more than half of the Americans over 40 in the survey have already been caregivers for a sick relative or friend.
Compassion & Choices' End-of-Life Consultation (EOLC) program has provided confidential, personal support for thousands of people over the last 20 years. People call our toll-free number (800-247-7421) specifically about end-of-life planning, such as preparation of advance directives.
"Everyone wants to die peacefully and with dignity. But it takes more than hope to achieve this end-of-life outcome," said Compassion & Choices President Barbara Coombs Lee, who was an ER and ICU nurse and physician assistant for 25 years. "Making and communicating end-of-life plans is absolutely necessary to ensure we get the treatment we want – and to avoid treatment we don't want. This step is especially important to prepare for a time we may be unable to speak for ourselves."
How do families start this uncomfortable conversation? After many attempts to engage her family, one Compassion & Choices client set her Thanksgiving table with advance directive forms at every place setting and announced: "Nobody gets dinner until these are filled out."
That tough-turkey tactic may not work for everyone. The best approach is the one that suits you and your family. While it's important to fill out this paperwork, it's essential is to get the conversation going.
"Talking Turkey Over Turkey" tips include:
"Appetizers" that could lead the way to a satisfying dialogue;
Four key questions your conversation should cover; and
Free tools you need to guide your conversation and document the results.
For more information, visit www.compassionandchoices.org/what-we-do/advance-planning, or call 800-247-7421 to speak to a Compassion & Choices' consultant or to request information.
With over 30 local groups and 40,000 members and supporters throughout the United States, Compassion & Choices leads the end-of-life choice movement. We support, educate and advocate. Learn more at: www.compassionandchoices.org.
Contact: Sean Crowley, 202-495-8520-c, scrowley@compassionandchoices.org
"Aging in Place" is the focus of a multi-platform report by the PBS NEWSHOUR
Report is the latest in TAKING CARE: a 6-part series the challenges of long-term care
 NewsHour Online offers tips for seniors, profiles a pilot program in Baltimore, and shares personal stories
As Americans live longer, more-productive lives, many seniors are seeking ways to "Age in Place" – to grow old in their own homes rather than move in with family or to traditional retirement facilities.  As part of its ongoing reporting on the challenges of aging and long-term care, Ray Suarez reports from Boston on a non-profit membership organization that helps seniors grow old in their own homes.  The broadcast report airs Thursday, August 08, 2013 on the PBS NEWSHOUR (check local listings.)
The group, Beacon Hill Village, was founded by Susan McWhinney-Morse and 10 of her friends and neighbors who wanted to find a way to grow old in their homes without having to depend on their children for help.  For an annual membership fee, the group offers transportation, social events, and other low-cost services for seniors. The organization has become a model for the nation – there are now over 100 villages across the country and over 200 in development.
Produced with support from The SCAN Foundation, the report is the second in TAKING CARE: a 6-part series on long-term care that will continue throughout the year with reports that show the magnitude of the problem, the challenges faced by individuals and governments, and some of the models for change being tested.
PBS NEWSHOUR's reporting on "Aging in Place" continues online:
7 simple repairs to help seniors safely age in place  and an opportunity to share your own tips;
a "quilt" of photos and anecdotes of living alone, submitted by seniors and their relatives;
 an extended interview with one of the founders of Beacon Hill Village;
And on Friday –a video showing the work of CAPABLE, a Johns Hopkins-run, Baltimore-located organization that fixes up homes to increase mobility and function.
The SCAN Foundation is an independent, non-profit public charity devoted to advancing a world where all of us can age with dignity, independence, and choice.
PBS NEWSHOUR is seen by over 5 million weekly viewers and is also available online, via public radio in select markets and via podcast. The program is produced with WETA Washington, D.C., and in association with WNET.org in New York. Major corporate funding for the PBS NEWSHOUR is provided by BAE Systems and BNSF Railway with additional support from the Corporation for Public Broadcasting and public television viewers. www.pbs.org/newshour
Circle of Life Hospice helps people in the advanced stages of a chronic or terminal illness who have made the decision to live their remaining days with dignity and surrounded by compassionate caregivers. Our hospice team consists of nurses, aides, social workers, spiritual care advisers, physicians, volunteers, dietitians, therapists and bereavement counsel with that will facilitate helping you "live with" versus "dying from" an illness.
If we can help you see death through new eyes , it will help you to transform your grieving process and change how you view your world, forever.
We have learned from our patients that the Art of Living at the end of life is a time of life that can involve tremendous personal and spiritual growth.
Circle of Life Hospice
1575 Delucchi Lane,
Suite 214
Reno, NV 89502
775-827-2298
There is no formal 'Senior Citizens Bill of Rights', but as individuals, senior citizens are entitled to their rights. However, the senior citizens have little energy left in them in their old age to fight for their rights and therefore, it is the duty of the children to see that their elderly parents are getting what they are rightfully entitled to.
Every right must be claimed to be deemed as a right. There are laws in existence for the running of nursing homes for the elderly and retirement communities. Even if your elderly mom or dad is in an assisted care facility, there are certain laws that are fundamental and expected to be followed by these care facilities too. It is your duty as a caregiver to see that they are following the laws and living up to the expectations.
There are some factors that you must verify before selecting a facility for your elderly parents:
– Ensure that the facility will provide the basic cleanliness and safety. Check out the evacuation plans in place, in case of an emergency situation. Verify whether the evacuation plan is a workable one, considering the fact that the facility may be full of elderly and invalids who may be slow in moving out of the building in case of a fire. Find out if there is emergency power available to operate the automatic doors and elevators so that everyone can get out safely.
– If food is provided by the facility, ensure that meals will be provided three times a day. The meals should be healthy and the food should be delivered to the room if your parent is disabled or injured. There should be some variety in the diet and since there is a separate charge for the food, it is not wrong to expect some quality and variety in the food.
– If your parent has moved to an assisted care facility, they have every right to live as they wish in that apartment, since they have paid for it. However, they have to observe certain restrictions because they are living in a community setting. They should be able to live without any interference from the staff of the facility and have the freedom to select the décor of the apartment or have family and friends to visit.
– Another fundamental right of a senior citizen is to be treated with compassion, respect and dignity. Although this is not a tangible right, how the staff at the facility treats the elderly is an important aspect in the selection of a facility for your parents. The staff of the facility must be respectful and pleasant in their dealings with your parents. If your parent complains of any emotional or verbal abuse, you must investigate and hold the facility accountable for it.
As a primary caregiver, responsible for the well being of your elderly parents, you have the right to remind the assisted care facility of their responsibilities. Ensure that your parents are getting the service and care that they paid for and that they are comfortable in their living quarters and enjoying their stay there.
Abhishek successfully runs an Old Age Home and he has got some great Eldercare Secrets up his sleeves! Download his FREE 80 Page Ebook, "How To Take Great Care Of Elders" from his website http://www.Senior-Guides.com/560/index.htm. Only limited Free Copies available.
Article Source: http://EzineArticles.com/?expert=Abhishek_Agarwal
Alzheimer's care communities are designed to sensitively care for those with Alzheimer's disease or other forms of dementia. These communities offer safe and secure residential care for those who need 24 hour assistance. Residents will receive the individual care they need, while maintaining their dignity and comfort in a caring and compassionate environment.
SERVING SENIORS in SOUTHERN NEVADA
No Cost Services Assist Seniors to Remain Independent
  Established in 2000, Helping Hands of Vegas Valley is a 501(c)(3) non-profit organization with the mission to provide free, assistive services to senior citizens in Southern Nevada, allowing them to maintain their dignity and independence while improving health and daily living.
Our services include:
Transportation
Food Pantry
Respite Care Vouchers
Volunteer at your convenience!
SERVICES
We are a community agency providing the following free services to seniors 60 and over in the Las Vegas Valley.
Transportation
HHOVV has two Para transit buses that can accommodate wheelchair clients. Rides are provided for medical appointments, grocery store shopping and other errands.
HHOVV volunteer drivers provide transportation to and from medical appointments, shopping trips and errands. All volunteers receive orientation training and a background check.
New clients meet with HHOVV's intake coordinator for an assessment and must be 60 years of age or older, show proof of Nevada residency and display a need for assistance. Individuals needing services are typically alone and frail, chronically ill, homebound, and/or dependent on a primary caregiver. Reassessments are completed on an annual basis. HHOVV does not charge for these services. Volunteers and staff do not accept tips, gifts, fees, loans or anything of value from clients.
To be added to the waiting list for transportation services please contact Myrna or Nichole at 702-633-7264 x29.
Respite Care Vouchers
The HHOVV respite voucher program is funded by the state Aging and Disabled Services Division and provides temporary relief for caregivers. Individuals who do not take time off while caring for a loved one may compromise their physical and mental well-being. Utilizing respite services is one way to reduce stress, allowing individuals to be more effective caregivers. Also, using respite services may delay early institutionalization
Food Pantry
HHOVV also keeps a food pantry stocked with non-perishable items and delivers a free bag once a month to clients who meet eligibility requirements. Clients must be 60 years of age or older, show proof of Nevada residency and proof that their annual income is at or below 150% of current poverty guidelines. To become a pantry recipient a senior may call 702-633-7264 x22 and leave their name and phone number.
The organization accepts donations of non-perishable food items at a warehouse office in North Las Vegas. Donations are always appreciated!
If you are interested in holding a food drive for HHOVV please contact Lorri Highet at 702-633-7264 x30.
An organization serving the Seniors of Las Vegas.
2320 Paseo Del Prado #B112
Las Vegas, NV 89102
702-633-7264
E-mail: hhofvv@aol.com

Silver Sky at Deer Springs
An Exceptional Retirement and Assisted Living Community for Nevada Seniors
Silver Sky at Deer Springs Assisted Living pulled out the stops to create a family-style Retirement and Assisted Living setting while providing services that reflect both quality and caring. We feel it's so exceptional that it places us in a class of our own.
The Deer Springs staff takes pride in their jobs and provide quality services tailored made to meet your every need. They'll take time to get to know you personally and to put a smile on your face too. It isn't their intention to become part of your family but when they spend as much time with you as they do, it just happens.
The Deer Springs staff takes pride in their jobs and provide quality services tailored made to meet your every need. They'll take time to get to know you personally and to put a smile on your face too. It isn't their intention to become part of your family but when they spend as much time with you as they do, it just happens.
State of the Art Kitchen
Silver Sky at Deer Springs Assisted Living is bright, clean, and spacious. When friends and family visit they will enjoy your apartment home because of the attractiveness, details, freshness and personality built into the design. Each apartment comes equipped with a refrigerator/freezer and microwave oven. Our classic design and colors are suitable for all tastes and create a lot of compliments.
Outside your personal apartment at Silver Sky at Deer Springs Assisted Living you'll find plenty of space to share and enjoy with family and friends. A brightly decorated reception area and lobby, library, living room, activity room and a delightful Bistro for beverages, snacks, ice cream and plenty of visiting await you.
Recreation Room
Knowing the importance of quality of life, Silver Sky at Deer Springs Assisted Living supports dignity, independence, choices, flexibility, and style for seniors who thrive on quality of life.
Silver Sky at Deer Springs Assisted Living serves the needs of all seniors in compliance with Fair Housing Laws and the general public seeking affordable housing. (Income restrictions apply).
Our Neighborhood
Our Apartments Are Centrally Located
A shopping center is only a block away and is home to many stores and shops including Wal-Mart, Costco, Stein Mart, Wells Fargo Bank, Bed Bath and Beyond as well as many great restaurants, and other shopping is close at hand.
Centennial Hills Hospital Med Center is just five and half miles away and Mountain View Medical Center is a short 7 miles away.
Services
Assisted Living Services
If and when you need a little extra help, we can assist you with the activities of daily living. These services are provided in the comfort of your apartment home without necessitating a need to move. Some of our services include: Personal laundry, daily housekeeping, medications, bathing, and dressing, transportation, hygiene, and nutrition.
Emergency Communication System
All apartments are connected to an emergency communication system that allows residents to reach our staff 24 hours a day, seven days a week, in case of emergency.
Transportation
We provide scheduled transportation for shopping trips, organized social and recreational activities, and medical and dental appointments.
Dining
The dining room is open, airy, and intimate yet comfortable and provides you with three nutritious meals daily.  Our Executive Chef's at Silver Sky and at Deer Springs love to create fresh and flavorful meals with variety and nutrition and always with your health in mind. In fact, our menus are seasonal and reviewed by a Registered Dietician. Invited Guests and Family are always welcome to dine with you.
Our culinary team prepares over 200,000 meals annually and savors the opportunity to create your favorites! Theme dinners are offered throughout the year to celebrate special events such as Cinco De Mayo, St. Patrick's Day, Thanksgiving, and the entire holiday season plus special luaus and so much more.
Veteran Information
Any wartime veteran with 90 days of active duty, one day beginning or ending during a period of war, is eligible to apply for the Aid & Attendance Improved Pension. A surviving spouse may also apply. The individual applying must qualify both medically and financially.
To qualify medically, a wartime veteran or surviving spouse must need the assistance of another person to perform daily tasks, such as eating, dressing or undressing, taking care of the needs of nature, etc. being blind or in a nursing home for mental or physical incapacity, or residing in an assisted living facility also qualifies.
Eligibility must be proven by filing the proper Veterans Application for Pension or Compensation. This application will require a copy of DD-214 or separation papers, medical evaluation from a physician, current medical issues, net worth limitations, and net income, along with out-of-pocket medical expenses.
To qualify financially, an applicant must have on average less than $80,000 in assets, excluding their home and vehicles.
You must still be income qualified as well as pass the other qualifiers to become a resident at Deer Springs Assisted Living.
FAQ's
What's Included in my Monthly Fees?
Monthly fees include all utilities (with the exception of phone and internet), breakfast, lunch and dinner. Also included are weekly housekeeping, bus transportation, and fun activity and wellness programs, concierge service, educational and cultural events and 24-hour staffing.
Do You Accept Veterans?
Yes we do.
How is behind Silver Sky? Are the communities stable places to live?               Yes, they are stable communities.
How is the food?
The food is great. If you'd like, stop by some time and try it out.
Is living at a Silver Sky Community fun?
Our residents think so. We have a slate of fun things to do and keep you active.
What's the staff like at your communities?
We invite you to schedule an appointment to meet everyone.
Do you have two bedroom apartments?
Yes we do.

Assisted Living Las Vegas
Siena Hills Assisted Living in Las Vegas offers Independent Living, Assisted Living, Memory Care and Alzheimer's Care.  Our staff is available 24 hours a day. Life at Siena Hills is comparable to living in a fine resort, with many of the same lifestyle enhancing amenities.
Independent Living & Assisted Living.
At Siena Hills, we strive to meet the needs of each Resident by providing an individualized care program that maintains each Resident's privacy and dignity. Our health care services    are provided 24 hours a day and change according to your personal needs.
Reputation, Experience & Leadership.
Siena Hills' unparalleled reputation in the community is fostered by our Executive Director, Mary Pophal. Mary has nearly twenty years of leadership experience in assisted living and memory care. Our residents and families benefit from Mary's vision and knowledge.
Siena Hills
Active Assisted Living & Memory Care Community
Located in Henderson at
2910 Horizon Ridge Pkwy
702-614-8733

About Life Care
Your family is special with its deep bonds and unique relationships. Facing a dramatic change – such as moving a loved one into assisted living or a nursing home – is an unsettling prospect for most people. Life Care Centers have helped families for decades to work through the difficult decisions about how best to care for their loved ones. We understand how trying it is to choose nursing home care for your loved one, and how most struggling caretakers feel there is no other choice.
That's why we're here.
We want those special members of your family to become equally special members of ours. We want to relieve the anxiety and frustration you may be experiencing by providing a nursing home community of constant support, attention and personalized care. Above all, we want to serve each person entrusted to us with compassion, dignity, purpose and respect.
That's not just our goal. It's our privilege.
Services
At Life Care Centers of America, we take elderly care very seriously. That's why we offer residents a wide range of living arrangements and amenities, services and care. From home assisted living to retirement living to nursing homes – and even campuses that offer all three in a continuum of care – Life Care has the experience, expertise, and dedication to provide a full scope of specialty services.
Whether your needs include Alzheimer's care, in-home nursing care, rehabilitation or recovery help, or any of a number of other specialty services, Life Care will be there, with all the support, education, and commitment you and your loved one need.
Rehabilitation
Life can deliver some unexpected twists: accidents, sudden illnesses or emergency surgeries can happen when you least expect them. And in the aftermath of such events, your energy is focused primarily on recovery—trying to also find the best available resources for help can be pretty challenging.
At Life Care, we understand the intense desire to recuperate and get back to normal as quickly as possible. But serious illness or trauma can sometimes force you to relearn even basic functions. The struggle to regain those lost capabilities while still recovering is frustrating and often overwhelming.
That's when our teams of experts can make an overwhelming difference. Our skilled therapy services can hasten your recovery, help return lost skills and bring back strength and mobility. Our caring professionals work tirelessly with our residents not only in physical areas, but also by constantly supporting and encouraging them emotionally.
We believe our residents are the extraordinary people who refuse to allow temporary setbacks or disabilities to affect them permanently. Their determination and effort become invaluable tools in the rehabilitation process.
And it is our greatest privilege to partner with them—or you, or your loved one—during recovery … and become your strongest advocates in the road to reclaiming total wellness.
Life Care Centers of America
The sun setting is no less beautiful that the sun rising.
Imagine living in a beautiful, peaceful environment, surrounded by friends and activities.
Caring for Life…
Since 1970, Life Care Centers of America has been providing unequaled nursing care and assisted living service. Our continuum of care campuses give our residents an individual care plan through various levels of care. But it\'s our commitment to quality and professionalism that makes us second to none.
2325 E. Harmon
Las Vegas, NV 89119
702-798-7990
http://www.sunriseseniorliving.com/
Sunrise Palms Apartments
Sunrise Palms ApartmentsLuxury Apartments…
Affordable Rents1420 Treeline Drive
Las Vegas
702-431-2277
1 & 2-Bedroom Apartment Homes
Gated Community
Free Resident Shuttle Bus Service (Shopping
& Entertainment)
Emergency Pull Cords
Full Size Washer/Dryer in each apartment
Microwave & Dishwasher
Gas Cooking & Heating
Elevator Access to All Floors
Sparkling Swimming Pool/Relaxing Spa
Computer Center with high-speed internet
Library & Billiards
Exciting Planned Activities
Covered Parking
Affordable Rents. Income Restricted
Pets Welcome
Office Hours:
Mon-Fri 8-5, Sat 10-5
The Sunrise Difference
There's no secret to Sunrise Senior Living's success. Our resident-centered approach allows Sunrise seniors to maintain independence and dignity, even as their needs change.
Sunrise was founded to create senior living that champions quality of life — a mission that has helped to completely redefine senior care in the U.S. We believe that no two people are alike and that no two residents require the same service. Sunrise residents benefit from this principle through the individually tailored care delivered by our team members every day.
Our Story
Our approach to providing the best possible lifestyle for each resident has set Sunrise apart for more than 30 years, and has helped us to become an experienced and innovative provider of senior living services. The Sunrise Story shares how Founders Paul and Terry Klaassen helped transform traditional views on elder care through their belief in individualized, resident-centered care.
The Sunrise Signature Experience
From our room layouts and interior decor to our designated care managers and community pets, Sunrise takes great care to incorporate details that enhance quality of life for seniors. Learn more about Sunrise Senior Living's holistic approach to creating a warm and welcoming environment through the The Sunrise Signature Experience.
Sunrise Signature Dining
The Sunrise Signature Dining Program is designed for the unique nutritional needs of older adults. Our community chefs incorporate fresh, flavorful ingredients into traditional, favorite recipes and tastes from around the world. Sunrise's Assisted Living, Independent Living, Memory Care and Short-Term Stay residents all enjoy three delicious, well-balanced meals served daily featuring a variety of menu choices and snacks available throughout the day.
To incorporate elements of Sunrise Signature Dining at home and learn the latest news on senior nutrition, visit the Sunrise Senior Eats Blog or subscribe to our RSS feed.